Advanced Laser Hair Treatment for Regrowth
We have a team of professionals and experts who are very well aware that hair loss can affect not only your appearance but also your self-esteem and self-confidence. At AHS, we are determined to offer hair regrowth treatment in Dubai for men and women of all age brackets. Our Advanced Laser Hair Treatment for re-growth is the ultimate hair loss solution for you.
Hair Regrowth Treatment at the ease of your Home
Now, you don't have to spend your time running after hair clinics for your hair treatment. Our hair regrowth treatment includes only 20-minute sessions per week in the comfort of your home. We care about your convenience, comfort and ease and that's why we prefer your home as the best place for treating your hair problems.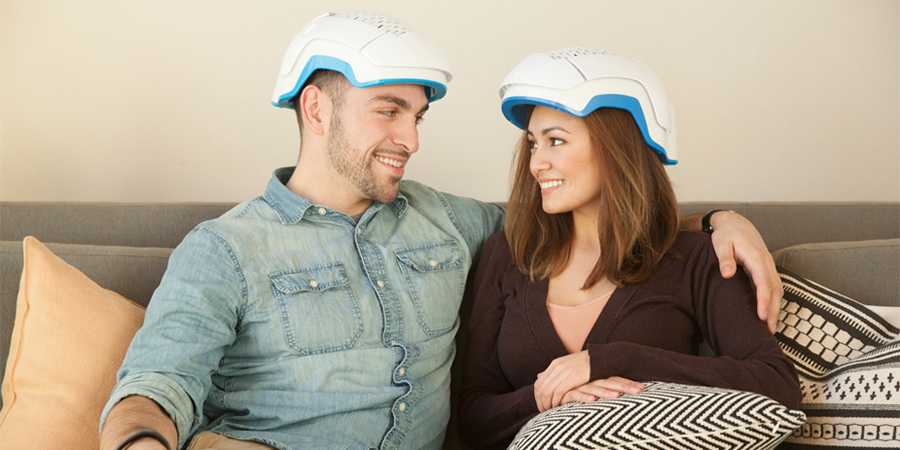 Reasons to Choose Advanced Hair Studio for your Hair Regrowth Treatment in Dubai
We don't believe in fake promises and lengthy discussions, we stand by our techniques and products. Millions of people have got their hair regrowth treatments done at Advanced Hair Studio . Below are few reasons why people love us so much!
Male and Female Treatment: Hair loss needs to be treated differently in men and women. AHS understands the fine cosmetic and medical differences that allow us to treat men and women most effectively in order to restore hair.
Personalized Programs: Every client is treated independently with expert-assisted and medically-based programs designed to fit the unique needs for the most effective results.
Treatment Options: AHS offers laser hair regrowth treatment and unique prescription compounds of clinically-proven products for hair regrowth. Our procedure of hair regrowth through laser technology is among the best options for regrowing hair.
Client Service: Our team of hair loss consultants is always ready to answer your questions and offer the most suitable advice as per your specific needs and concerns.
Proper Consultation: We strive to deliver the best to our clients each time and hence, analysing the problem accurately and providing apt consultation is of great significance to our clients as it helps appropriate a proper hair loss solution selection.
The AHS Home Program is the next-generation Hair retention and Hair Regrowth Treatment
We are one of the well-established hair loss clinics and hair loss centers in Dubai providing the most relevant services to counter any type of hair loss or baldness at any stage. Not every laser hair regrowth treatment can give satisfactory results. Advanced Hair Studio with over 45 years of excellence and expertise in the treatments, assures people a head full of hair back.
The AHS Home Program is the result of our decades of experience, the artistry that provides state-of-the-art hair loss and hair replacement solutions to help our clients in not only restoring hair but regain their confidence and self-esteem to allow them to pursue their goals in life.
Our approach to hair loss treatment and laser hair regrowth treatment is uniquely customized with the highest professional standards for everyone; which makes our AHS Home Program the next-generation hair retention and hair regrowth treatment.